Attention Laney Graduates and Alums. . . On-Going Hiring at Dry Bar and JC Penney Salon Hayward!!!
JC Penney Salon Hayward California Currently Hiring Stylists
Great benefits, Training, and Clientele Opportunities for Business.
For More Information Contact S
alon Manager
Chris (510) 783-0317
---
Click the Grad Hat below to leave a special message of congratulations and well wishes for our amazing group of  2021 Virtual Cosmo Grads on our Padlet!
---

Global Artistic Ambassador Sam Villa Visit Laney Cosmo!'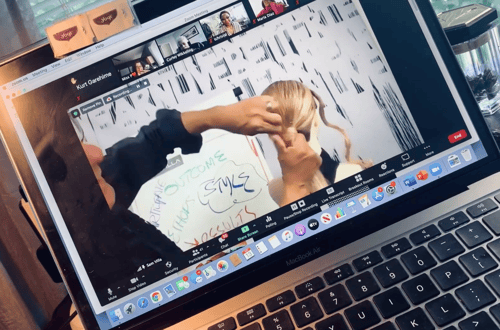 Co-Founder of Sam Villa and Global Artistic Ambassador for Redken, Sam Villa, came to share his talent and love of teaching to the Laney College Cosmetology Zoom Room Tuesday, April 13th. With a full house of cosmo freshman and senior students from both day and evening programs, Sam spared no expense as he wowed and motivated both instructors and students alike for an hour with his styling, and foundational skills. He emphasized the planning and professional skills students need, behind the chair, to complete their program and become licensed.
Sam is a previous colleague of instructor, Miss Petra's Schontges, and offered a glimpse of the kind of exclusive monthly SkillsUp student training in cutting, styling, and finishing foundation education the department can expect as a Sam Villa partnership school.
Get a glimpse of the workshop here!
______________________________________________________________________________
Exciting Wella Color Event . . . A must-see for all of you Color Lovers! 
Welcome to WE Create – the no miss online event of 2021. We want to make sure we reach you, our global community so the show will be available at 12:00 BST and 18:00 BST on the 25th April 2021.
We have crafted the event just like a TV show which will be broadcasted over two channels simultaneously.
The event is packed with Inspirational, Educational and Business content designed to maximize your professional and personal growth. Inside the channels we will broadcast different episodes of content featuring shows from concept to reality, bold and dramatic image transformations, top Artists sharing their hot hair top tips. This amazing content will be delivered to you by our top International Artist from all around the globe.